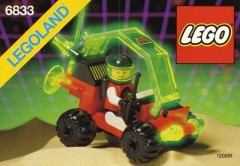 In response to criticism in the user survey that some of the images of older sets are of a low quality, I've embarked on a project to replace many of them.
I'm going to work through my personal collection of some 2200 sets (about 1/4 of all non-'Gear' items) and re-scan the instruction covers. Today I started with the sets I own that were released in 1990 (not many, to be honest) and I'll work my way forwards in time. 1990 includes the excellent space subtheme M-Tron.
I'm going to scan at 150dpi, resize to fit the available width for the main picture, and make the full size scans available under the additional images tab. Obviously it's going to take some time!
Also today I added a complete set of high quality scans of Adventurers sets that Nori kindly provided.
Maybe this is something YOU can help with. Do have a large collection of instructions, a good flat bed scanner and, most importantly, time? If you do, please get in touch. In particular I'll need help with Castle, Town and Pirates, given that I own hardly any of them.