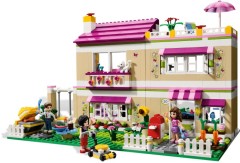 The LEGO Group has just released their annual report for 2012, and as we would expect, they had a very strong year. Here are highlights of the report as directly reported by them:
"In 2012 the LEGO Group increased its revenue by 25% to GBP 2,549 million – nearly triple the sales of 2007. This represents the fifth consecutive year in which the LEGO Group delivered year over year revenue growth in excess of 15%.
Key facts from the LEGO Group's annual report for 2012, which was published today:

The year's operating profit increased to GBP 866 million against GBP 660 million in 2011, an increase of 40%.
The operating margin increased to 34% from 30% in 2011.
The year's net profit increased to GBP 611 million against GBP 484 million in 2011.
The revenue increased by 25% to GBP 2,549 million against GBP 2,181 million in 2011. In local currency (i.e. excluding the impact of foreign exchange changes) revenue increased 20% year over year.
The net cash generated from operating activities was GBP 680 million against GBP 430 million in 2011.
In 2012 the Group paid GBP 208 million in corporate income taxes.
More than 60% of the LEGO Group's sales are new launches every year.
"As a consequence we have huge demands on our development & supply processes. Year after year, we must be able to predict what will capture the interest of children and deliver this in relevant LEGO products – and in 2012 we succeeded," said Jørgen Vig Knudstorp."
The best-selling product lines, in order, were 1) City, 2) Star Wars, 3) Ninjago, and 4) Friends.
Sales of Friends was much better than expected and even with doubling their original planned production, they state that they were unable to fully meet demand. Since Friends was targeted at a new demographic, it's logical to infer that it played a large part in sales growth, and the image of Olivia's House adorns the LEGO news release, just like I've done here.
Though Ninjago was ranked third, the statement that over 60% of sales are from new launches sheds some light on why they seemed to have scaled back and invested heavily in Chima for 2013.
The investments in facilities closer to their core markets in North America and Europe were considered to have already contributed to execution success and TLG is continuing that trend in the future by closing packing operations in Billund and focusing on moulding and engineering at that site.
Asia is called out as being a prospective engine of growth. It will be interesting to see if LEGO is able to succeed in that potentially huge market, and whether or not they'll need to change some of their approaches to product and marketing.
You can view the highlights here and the full annual report here.
Commenting has ended on this article.