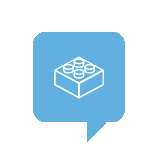 There are hundreds of LEGO fan sites out on the Internet and dozens more are launched every month. Many tend to be 'more of the same' and regurgitate content created by other, more established, sites. However, every now and then a new one comes along which brings something new to the table, and looks much more interesting. LEGO Answers is such a site. One of the moderators there is Brickset user ambo100, and this is what he has to say about it:
"LEGO® Answers is based on the popular Stack Exchange Q&A site, which also hosts Stack Overflow, the Q&A site for 'professional and enthusiast programmers'. The Stack Exchange format encourages questions and answers from a audience of experts and enthusiasts.
"The site so far has been running for just over year and is still in a Beta stage. We're looking for like-minded individuals to vote, add, improve and share content. Questions range from storage and shopping to techniques and programming."
Having taken a look just now, there appears to be some useful and interesting discussions going on, such as What is the smallest LEGO component?, How does LEGO handle the breakage of Hero Factory sockets? and Are all the Magnet minifigs now glued on and how should I remove them?. There's even a question which was prompted by something I wrote: Why does LEGO state the number of parts on US boxes, but not in Europe?
Go and check it out: I think you'll find it worthwhile visiting. I've added it to my RSS reader and will be keeping an eye out with interest and may even chip in from time to time.
Commenting has ended on this article.