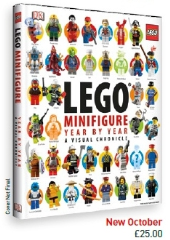 As you may recall, Dorling Kindersley is publishing a book about minfigs, LEGO Minifigure Year By Year: A Visual Chronicle, later this year.
The authors have asked for your input:
"As one of the book's features, we are hoping to create a themed spread which features interesting questions to LEGO about their minifigures, and it would be brilliant if you could help us with any questions that you might have!
"Questions could be about something that you've always been wondering about minifigures, such as how they are made, their history or any quirky facts you would like to know. If you have any ideas it would be great if you could get back to me by Wednesday [6 March] if possible. Please note that we can't guarantee that LEGO will answer all the questions, but we hope it will make a nice feature in the book. "
You can contact Ruth Amos (ruth.amos [at] uk.dk.com) directly with your questions, or leave a comment here and I'll collate them.
Commenting has ended on this article.