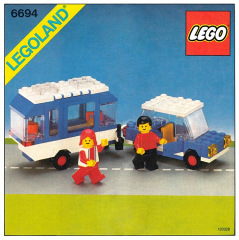 Since I started on my mission to improve the quality of our set images two weeks ago, I've had a tremendous response to my plea for scans of instruction covers.
In total, there are about 1644 new scans on the site: 1102 that I've created, of nearly every set I own up to 2005, and over 500 that have been submitted by others.
They've been submitted by too many people to list here, and I'd like to thank each and every one of you for taking the time to scan and send them. I will however just mention Slq, W Joey, Michael S and Kellee F who have been particularly prolific over the last week or so and have kept my mailbox stuffed with high quality scans, including this beauty of a car and caravan. They don't make sets like that any more!
But, there's still more to gather, so take a look at these lists (sets I own that need a better image and sets I own with no image) and see if you can help. At the moment I am concentrating on sets released last millennium: I'll ask you for sets from the 2000s in due course, once I've finished my own.
Commenting has ended on this article.