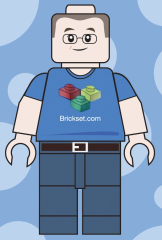 Here's something rather cool: Will Wiggins is an illustrator/designer based out of NYC in the USA. He creates illustrations of people as minifigs. For $5, he'll create original artwork of a person or character as a minifig, and for an extra $10 will make a physical minifig to match.
He contacted me a month or so ago and offered to do an illustration of me, and here is the result, which is based on this picture of me at LEGOWorld. A pretty good match, I reckon!
You can commission your own artwork on Fiverr (the world's largest marketplace
for small services). I'm thinking of getting the forum admins one each for use as our avatars. What do you think, guys? :-)
Commenting has ended on this article.