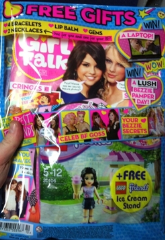 It's not all bad news with regards polybag promotions with publications today: Rich at BrickFanatics is reporting that the current issue of Girl Talk magazine comes wihe a free Friends polybag, 30106, Ice Cream Stand.
I think the magazine costs £2.99 so it's not a bad deal, even if you don't have young girls in your family to give the magazine to.
(Picture courtesy of BrickFanatics).
Commenting has ended on this article.