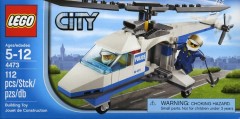 China Airlines has the City Police Helicopter set 4473 listed in their in-flight shopping catalogue, priced at 23 USD / 18 EUR for 112-pieces.
109 Brickset members currently state that they own this set; it would be great if they could tell the rest of us where they each got their copy of this set from.
Commenting has ended on this article.