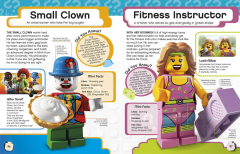 The Dorling Kindersley book LEGO Minifigures Character Encyclopedia is due out on May 1st. DK has recently published example spreads from the book so we can get a feel for what it's going to be like.
Images of the exclusive minifig that will come with it, a toy soldier, have also been posted online, by Asian website minifigs.net.
It's 208-pages long and will probably include series 10, so with the exclusive soldier figure, that will make the total number of figures to be featured either 161 or 170, depending on whether the Team GB figs are included. I wonder what'll be on the other pages?
You can pre-order now from Amazon:
Commenting has ended on this article.