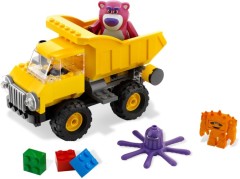 Amazon.com is now listing three TS3 sets, stating they'll be available on May 1st, somewhat earlier than their anticipated release date of June.
- LEGO Toy Story Western Train Chase (7597)
($80)
- LEGO Toy Story Trash Compactor Escape (7596)
($50)
- LEGO Toy Story Lotso's Dump Truck (7789)
($20)
(Thanks jeeping for the news!)
Commenting has ended on this article.