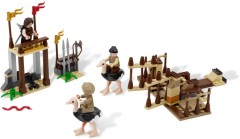 RichardAM reports that the in-store catalogue in his local Argos now has an extra page inserted for the Prince Of Persia sets, and sure enough, four of the sets are now listed on the Argos website
. The Fight for the Dagger is the one that's missing.
What's more, he says the insert also advertises the collectable minifigures! They'll cost £1.99 and will be available from 1st May, which is a Saturday. I can just imagine doing a 'reserve and collect' online for 60 bags (they come in cases of 60), then seeing the surprised expression on the Saturday girl behind the counter's face when you go and pick them up :-)
Commenting has ended on this article.