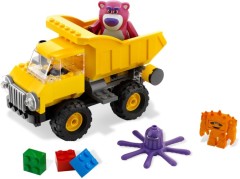 Thescottfam writes "Toy Story 3 sets slowly becoming available at LEGO Stores across the US. The Western Train Chase, Lottso's Dumptruck and The Trash Compactor Escape have hit the shelves in N.Carolina. The Duplo Pizza Planet Truck and Great Train Chase are also available now."
Let us know if they are in your local stores.
Update: They can also be ordered from the Toys R Us website!
Update 21st April: Now they can't be ordered any more from the Toys R Us website -- they've been pulled!
Commenting has ended on this article.