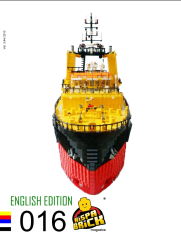 The latest edition of the excellent Hispabrick Magazine has just been published and is now available for download.
I haven't read it all yet, but the articles that caught my eye whilst flicking through include an interview with Richard Lockwood, creator of myBrickset, a clever leaf weaving technique, and interviews with Megan Rothrock, author of the LEGO Adventures book, and Jamie Berard.
It just keeps going from strength to strength...
Commenting has ended on this article.