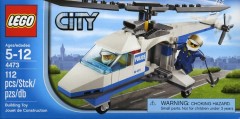 This year's airline special set, 4473 Police Helicopter, that we discussed last month is now more widely available and can be ordered from several airlines without needing to fly. Lluis G emailed last week to say he'd ordered it from Air Berlin (by snail-mail, I believe) and now British Airways list it on their High Life shop website, priced at £16.
It's perhaps one of the least interesting airline specials we've had in recent years (police... yawn...) but one that the aficionado of such things will need in their collection (that includes me :-) )
Commenting has ended on this article.