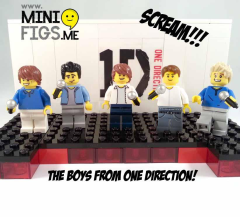 We've teamed up with our favourite custom minifig creator, Minifigs.me, to bring you two exciting competitions, which there's still time to enter!
Here's the blurb from Caroline, Chief Minifig Geneticist at Minifigs.me:
"Minifigs.me is a little company, who make custom minifigs to order. We take any kind of commissions, from simple "Happy Birthday" minifigs, to multicoloured, multifaceted creations based on your photos.
"One of our favourite things is hearing your great ideas for minifigures, and what we really, really like is making people smile with our creations. We think the best way to do that is to run a competition so you can tell us your fab ideas for your dream custom minifig, and the one we like best we'll make and send your way!
"And don't worry if you don't have any ideas just now, we'll be happy to just make you smile by sending you a custom minifig of your choice from our website.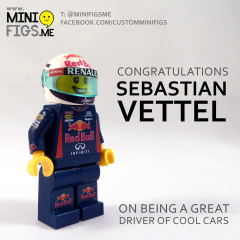 "So in conjunction with Brickset we're going to run 2 competitions:
A prize draw: just give us your name and email address so we can keep in touch with our latest creations (we won't sell your email or do anything evil with it, just the odd email to say hello and maybe even some special offers one day!). Someone will be be picked at random and will receive a Minifigs.me gift voucher for a custom minifig of your choice.
What minifigure would you like us to make? Tell us about it, send us designs if you like, or links to pictures of the person you'd like to see created. The winner will have their dream minifig made for them.
"To enter either competition, fill in the entry form with as much info as you'd like. Our email is also on the form if you need to send more details about your ideal custom minifig.
"And while you're waiting to see who the winner is, why not check out our creations on Facebook and stay in touch with us on twitter.
"We'll close the competition in 4 weeks (Sunday 14th April) and let you know then who the winners and the winning minifig are!"
Commenting has ended on this article.