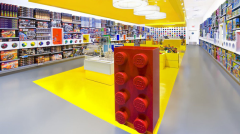 My prayers have been answered! There's been no official announcement yet, but as you can read in the forum Havocsan completed a survey after visiting the Cardiff store and commented about the distance he had to travel to get to it.
The reply he received from LEGO stated "I can appreciate that for many people it is quite a trip to get to us in Cardiff. Later on this year, there will be a new LEGO Store opening in Southampton, which may be a little easier to get to! Keep an eye out on the website for further details and opening dates."
Southampton is about 10 miles away from where I live, so to say I'm pleased is an understatement :-)
Commenting has ended on this article.