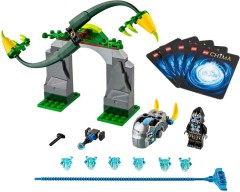 Whilst I was away over the weekend LEGO has pushed images of many forthcoming sets onto their server. I've downloaded them and you'll see them in the 'What's new' list above. Most have been revealed by other sites but the next batch of Legends of Chima Speedors and the LoC 'ultrabuilds' haven't.
70109 gives us the first official glimpse of a member of the gorilla clan, presumably Gorzan, and 70107 contains the skunk character.
I'll let you make up your own minds about the ultrabuilds. I was criticised for commenting on them after seeing them at the Toy Fair :-)
Commenting has ended on this article.