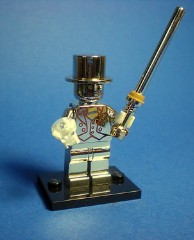 Two Mr. Golds have been offered for sale on eBay by the same seller in Germany:
Lot 1
| Lot 2
. The asking price is €999, which is about $1300.
This proves why it was a misguided decision on the part of LEGO to produce the figure in such limited numbers and distribute them as they are doing. All it will do is enable third-party sellers to profit massively should they find one whilst at the same time annoying loyal customers and minifig collectors.
In other series 10 news, I'm told that they can be ordered from shop.LEGO.com in Switzerland and that the official release date in the USA, when they'll be available in Target, is May 1.
(Thanks Luke, lifelislegos and Ben for the news).
Commenting has ended on this article.