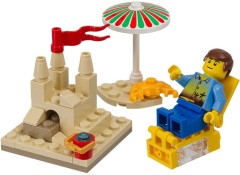 The second of this year's seasonal scene polybags isn't widely available yet but I managed to get one from one of the traders at the Brickish Association meeting at the weekend. I think it came from the Manchester Discovery Centre where, it's been said, they are for sale already. No doubt it will turn up in brand stores and at shop.LEGO.com when (or, in the UK's case, if...) summer arrives.
The set consists of three parts: a sand castle, a deck chair and a parasol.
The sand castle is neatly constructed from tan and dark tan and features a red bucket: its first appearance outside a Friends set in that colour.
The parasol is a bit disappointing: the whole point of them is to provide shade isn't it, but the only thing that can fit under it is the crab. A longer pole should have been provided.
The deck chair is quite cleverly constructed but as you can see, it relies on transparent parts to hold the 'legs' on the end.
The minifig is, frankly, a big disappointment. An original minifig hairpiece of which we all have hundreds, a standard face and a horrible shirt. What would have been better would be a bare yellow torso, like this one, and a pair of trunks (black or blue hips and yellow legs).
Compared to 40052 Springtime Scene this is very disappointing, and one for serious polybag collectors only.
Commenting has ended on this article.