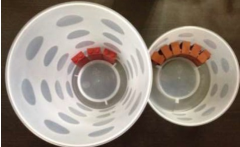 How to get the most parts in a PaB tub has been a topic of discussion among AFOLs since the first brand stores opened in the early 2000s. In fact, LEGO even published a press release about it back in 2003.
Now, new AFOL Michael Bradford has written a paper on the subject, considering such things as how to pack the parts, whether a large or small cup is better value, and also how the brand store cups compare with those available in some Discovery Centres.
Personally I haven't the patience to stack the bricks in the shop and, surely, once they've been stacked they are not new any more, right? (or is that just me?...).
I'd be interested to hear what lengths you go to to maximise your PaB purchases or whether you just pile 'em in and hope for the best...
Commenting has ended on this article.