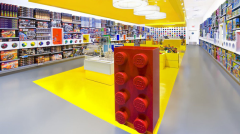 Brand stores are opening up left, right and centre in the USA and even in the UK but expansion into new countries has been slow.
However, today, LEGO has advertised the store manager's job for a new store in Vienna, which will be the first one to open in Austria.
Any Austrians in the house?
(Thanks LostInTranslation for the news).
Commenting has ended on this article.