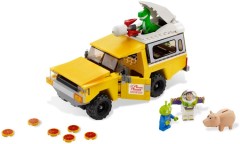 All the TS 3 sets can be pre-ordered fromToys R Us. They'll be released on 1st June. If you don't want to wait that long you can get all but the Garbage Truck Getaway from Amazon.fr. Shipping from France to the UK is a very reasonable €7, and the prices are marginally cheaper: the train, for example, is €81 which equates to just over £70 compared to the TRU price of £80.
(thanks keithkram and legocoastguard for the news)
Commenting has ended on this article.