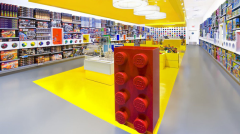 A job listing has appeared on LEGO.com for the store manager of another new LEGO Brand Store. The new store will be in Guilford Town Centre.
There's no word yet on when we can expect the store to open, but I would hazard a guess at a soft opening sometime during the Summer with a Grand Opening in September/October.
Is this good news for you? Where are you hoping for a new store?
Commenting has ended on this article.