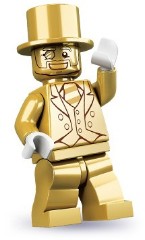 Here's a heart warming story that proves that, despite all the issues around Goldgate, it could be you...
Brickset member bodybomb3 emailed to say he'd found one: "I bought it from a "Toy Barn" in Worthing, UK. I went there after being disappointed after Argos had no series 10 minifigures. I went in and picked eight bags at random; just grabbed them from a box in the LEGO aisle.
"When I went to pay, it turned out there was a loyalty card promotion: buy 5, get the 6th one free. So I got 8 for the price of 7. I didn't feel them as I just wanted a bit of old fashion luck and a surprise like I did with series 1. Later, I opened 4 and nothing special, then the fifth of the eight packets I pulled out a double bagged gold plated Mr Gold minifigure and I'm still in shock!"
LEGO's official Mr. Gold tracker is now live. 19 have been registered so far.
Commenting has ended on this article.