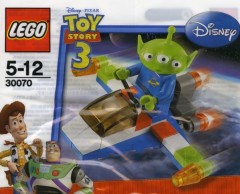 Voyanui 8768 brings us news of an offer in Tesco supermarkets in the UK: "there is a lego toy story offer on fun-size bananas. You can collect tokens to reserve different toy story gifts. For 3 tokens you can get 30070 Alien Space ship (which it says is exclusive to tesco), 5 tokens to get 1 of 4 lego toy story keychains and for 7 tokens you can get 852949 toy story magnets (8.99 worth!!!). You do have to pay £2.29 for p&p though. You get one token per pack of bananas."
I haven't been down to my branch to see for myself but it looks like being a great way to get the alien ship, if you like Bananas that is!
Update: There's more information on the Tesco website where you can download an order form.
Commenting has ended on this article.