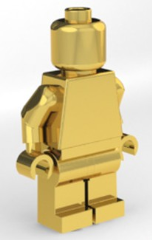 If you're fed up hunting for a cheap plastic Mr. Gold or, once you've found one, you're disappointed with its quality, you might be interested in this KickStarter project that aims to produce fully poseable silver, gold and platinum minifigs.
The solid sterling silver version can be yours for $475 which is a lot less than some people are paying for a plastic Mr. Gold. The 14ct gold version will set you back a cool $4250, but I bet it will look stunning...
Commenting has ended on this article.