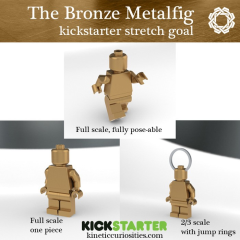 Further to our news article about the KickStarter project that proposes to produce silver, gold and platinum minifigs, Jonathan Brady has been in touch to say that he's added a 'stretch goal' to the project.
If met, he'll produce bronze versions of the three minifig designs, which, going by the comments in the previous article, would be highly sought after.
If you haven't done so already, consider pledging to the project to make these a reality.
Commenting has ended on this article.