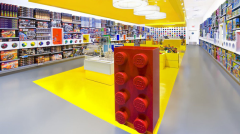 The 12th. LEGO brand store in the UK opened today in Glasgow, in the Buchanan Galleries. It's the first one in Scotland and I'm sure it will be welcomed by the many Scottish AFOLs nearby. I suspect the 'grand opening' event will be in a couple of months' time.
There's been no further word on Southampton since LEGO let it slip that a store is to open there, but hopefully we'll hear something more concrete soon.
Update: It's believed that the grand opening weekend will be 6-8th June (thanks Adam K at Brickish)
(Thanks to littlebriony for reminding me to post this).
Commenting has ended on this article.