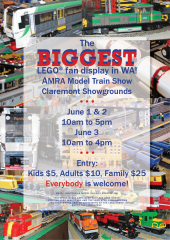 The WA Brick Society is having its annual display and invites people to see what amazing things they have made from LEGO on their 40 metre long layout! The display will include an even longer bridge than last year (39 metres), a working race car track, drag strip and a model of Allendale Square, a Perth landmark.
Last year was their best attended event, with over 21,000 people that came down to the show!
This year it's being held at Claremont Showgrounds, Claremont, Western Australia, on June 1st and 2nd, from 10am - 5pm, and June 3rd: 10am to 4pm. Entry prices are: Kids $5, Adults $10, Family $25.
You can find out more about the WA Brick Society or download the display poster by visiting: www.wabricksociety.org.au and our Facebook page
Commenting has ended on this article.