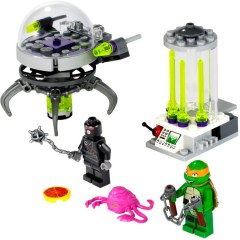 The draw for the raffle is in full swing in the forum, and the other small competition to win 79100 Kraang Lab Escape, donated by Argos[1], is now over.
The question was "What was the TV series called when it was shown in the UK in the 1980s?", and the correct answer was B, Teenage Mutant Hero Turtles because of "the controversy surrounding ninjas and related weapons such as nunchuks at the time. The intro sequence was heavily edited because of this, replacing the word ninja with hero or fighting, using a digitally faded logo instead of the animated blob, and removing any scenes in which Michaelangelo wields his nunchuks, replacing them with random clips from the show", according to Wikipedia. I didn't watch it at the time but presumably that totally ruined it!
There were 511 entries, of which 298 were correct, which I reckon is pretty low given you could've Googled it!
Anyway, picking an entry at random from the list, number 132, is...Charlie Davies! Congratulations Charlie, I'll be in touch to get your address.
[1] Argos is a top UK retailer stocking a large selection of toys with an impressive LEGO section
Commenting has ended on this article.