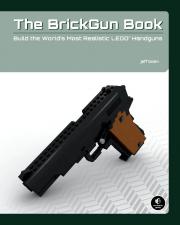 I received a review copy of this new book published by No Starch Press today. The BrickGun Book "shows how to make the world's least dangerous guns". It's a 222-page paperback authored by Jeff Boen who, by all accounts, is a celebrity in brick gun circles, and who runs Brickgun.com.
After a short introduction that provides building tips and explains the development of Jeff's designs, the bulk of the book is filled with detailed instructions for five of his most popular ones: BG22, 92FS, Desert Eagle, 1911 and MAC-11 (the names of which mean little to me).
The instructions themselves, which are accompanied by tabular and graphical parts lists, have been created with the LDraw toolset. They are very high quality and look to be easy to follow, despite the fact that most of the parts are black. I'd go so far as saying that they are better printed than some of the LEGO official instruction books in that regard. There are example spreads of the instructions on the No Starch website.
The completed models look very realistic and in fact the back of the book states to 'exercise caution when handling these replicas and be extremely careful when displaying these models in public'. It might be better to build them in red then, rather than black :-)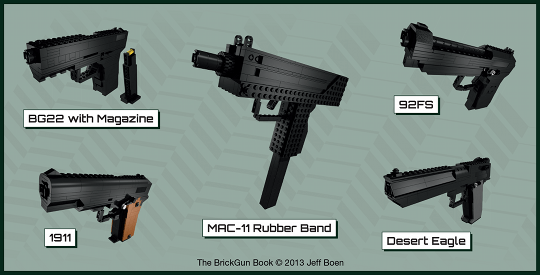 The subject matter will not be to everyone's taste but there seems to be a demand for it as this is No Starch's fourth book on LEGO guns, after Forbidden LEGO, LEGO Heavy Weapons and Badass LEGO guns. They obviously wouldn't have published it if there wasn't.
If LEGO guns interest you, you won't be disappointed with this book. It's very well produced.
It (and some of the the other books I mention above) is available from Amazon.co.uk
(£20.49), Amazon.com ($20.25)
, Amazon.de (€18.50)
and Amazon.ca
($16.35).
Commenting has ended on this article.