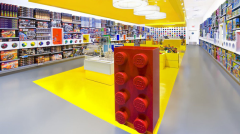 Rich at BrickFanatics has just posted details from the June calendar:
Tower of Orhtanc available from 17th June to VIP members, as stated before.
Summer City, Chima, Star Wars and Galaxy Squad will be available from the 1st.
Spend £25 or more and you'll get a free TNMT Splinter key ring, spend £50 or more for the Jor-El polybag. (No idea if they stack or not, but probably not).
And, the Glasgow store grand opening event will be held 7 - 9th June with the usual selection of freebies to the first customers each day.
Also, we're hearing from various sources (including Kockamania) that the Back to the Future Cuusoo set will be available in August!
Commenting has ended on this article.