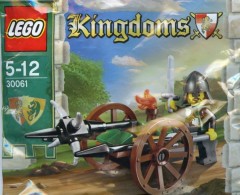 Adi in Germany writes: "The 30061 Attack Wagon is available in Germany. In certain stores you get it free when you spend 20€ or more for the new Kingdoms set (all available). They also have the Kingdoms Battlepacks 10€ each, so when you pick up both of them you already have 30061.
"Interestingly they advertise this promotion with an official poster that shows all the Kingdoms sets in their prototype configuration and the watermarked box pics.
"The Kingdom Battlepacks' minifigures are sadly the poor chinese plastic like their predecessors. All the Kingdom Sets are available in the German Idee & Spiel stores."
Update: Adi has sent us images of the battlepacks: 852921 and 852922

Commenting has ended on this article.