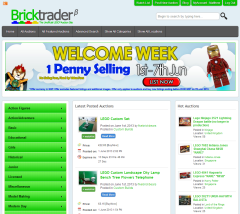 The new LEGO specific auction site: Bricktrader.net, announced last Monday has today been launched! From the site's blog:
Welcome to Bricktraderß
Welcome, or for some of you, welcome back. Over the past couple of months we've been spending time making major adjustments to the site, changing it from a run of the mill news blog into what we originally set out to create; a LEGO marketplace. The changes have been huge, and as you'll see, our focus will no longer be on mainstream news, but on bringing buyers and sellers together on the best value dedicated LEGO marketplace on the internet.
The site is being run by TyoSolo from the forum, and he will be happy to answer any questions and is looking for feedback on the site so far and possible enhancements.
The emergence of new players in the gray market is bound to polarize portions of the community, but overall I think increased options and the resultant competition is a win for both buyers and sellers alike.
Having used the site personally, I find it's actually quite good. Currently the biggest shortcoming, as expected, is the lack of users. If it does prove to be a competent platform though, I'm optimistic that success will follow.
Have you tried it yet? Have a look and tell us what you think.
Commenting has ended on this article.