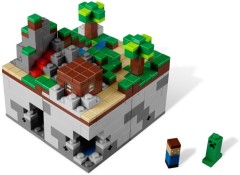 Hungarian site KockaMania claims to have information which suggests that LEGO is to release two more Minecraft sets, named simply at this stage as 21105 - Minecraft II and 21106 - Minecraft III.
It's entirely plausible given (a) the first one was immensely popular (well, in the USA at least) and (b) the numbers quoted leave gaps for the BTTF 21103 and the t.b.a set that'll be produced following the autumn 2012 review.
What do you think? Can't wait to get your hands on them, or that LEGO should concentrate their efforts on getting some of the more interesting Cuusoo 'winners' through review?
Update: AMthedude has pointed out that the instruction books for 21102 on lego.com were updated just a few days ago, changing the set name on the front cover from "Micro World" to "Micro World - The Forest". Why would LEGO do that if not to differentiate it from other Minecraft sets?
(via BrickFanatics and Benjamin)
Commenting has ended on this article.