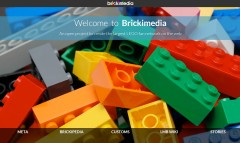 The Brickipedia team have moved the project onto a new platform and it has a new URL, http://www.brickimedia.org/.
In case you're not aware, Brickipedia is 'a free online LEGO encyclopedia written collaboratively by its readers known as Brickipedians.'
Since its inception in 2006 it's been a useful resource, but until now it has been hosted at Wikia which forced the display of intrusive and distracting advertising that made it unpleasant to use.
Now, it's on a vanilla MediaWiki platform which has resulted in it being much easier on the eye and a pleasure to use.
Brickset user CzechMate is one of the admins at the site, and I understand from him that the old Brickipedia will remain on the Wikia platform, but will be left to die, since it appears to be impossible to actually remove it. I will encourage him to explain its status in the comment
Note: We first published this article back in April but having done so the server hardware didn't take the resultant strain of hundreds of new users hitting the site. I'm told that it is now ready to handle the traffic and all content has been transferred from the old site.
Commenting has ended on this article.