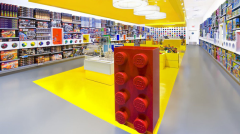 LEGO is currently advertising for a manager for a brand store in Brasschaat, Belgium, which is on the outskirts of Antwerp and close to the border with the Netherlands. I'm sure this news will go down well with those nearby. (Thanks bluemoose).
Not such good news though, is that a brand store won't be coming to the town near me, Southampton, any time soon, despite what LEGO customer services had told people earlier in the year.
Commenting has ended on this article.