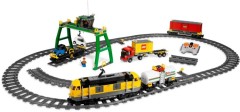 I popped into my local Lego Brand Store this evening and was surprised to see many of the mid-2010 sets already on the shelf !
Sets included - Toy Story 3; Space Police 3; Kingdoms (including Battle Packs & Impulse sets); City (including the new trains, the truck & the airport); and World Racers.
No sign yet of - the new Star Wars, the new Atlantis, the new Creator, Hero Factory, or new Technic. (HP isn't expected until much later in the year anyway)
We'd been under the impression that these weren't planned for release in the UK until next week, so it's great news that Lego has decided to release them early
Commenting has ended on this article.