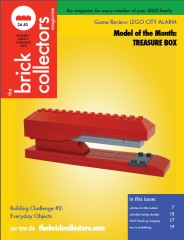 I was made aware of a new online LEGO magazine, The Brick Collectors Magazine in the forum earlier in the week so I thought I'd check it out, and having done so I was so impressed that I wanted you all to know about it.
It's very different to BrickJournal and Hispabrick which cater for the hardcore AFOL. It's billed as 'The magazine for every member of your LEGO family' and it is exactly that. It's written by the parents of two children and contains ideas, instructions, games, puzzles and information that will be of interest to other families, both the parents and the kids.
Issue two has just been published. Issue one, published in May, can also be downloaded.
They are very well produced and written and if you have young kids yourself, I highly recommend taking a look. Even if you don't, you'll probably find something of interest in them. I hope the family continues to produce more issues; the surge of downloads that will result from this article will hopefully encourage them to do so.
Commenting has ended on this article.