I've been sent this image by several people which purports to show five of the figures in series 11. I don't know where it originated from. It certainly looks plausible, doesn't it, and ties in with the list of figures published a while ago: Yeti, Evil Mech, Welder, Lady Robot, Jazz Musician, Constable, Holiday Elf, Bavarian Lady, Scarecrow, Mountain Climber, Grandma, Tiki Warrior, Gingerbread Man, Barbarian, Dinner Waitress and Scientist. (List from BrickFanatics).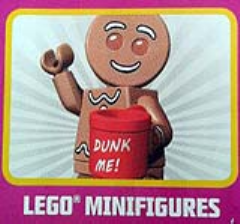 Update: Bilko has sent us this picture of the gingerbread man, from the girls' UK LEGO Club magazine that arrived today.
The magazine states they'll be out in September.
Commenting has ended on this article.