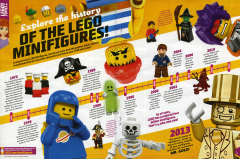 As well as revealing the gingerbread man, the UK Club magazine for girls contains an interesting article on the history of minifigs, which is unusual because usually it's just full of glorified adverts and comic strips.
Actually, I suppose this is little more than an advert for Mr. Gold, but it does make for interesting reading. Shame then that it contains at least one error, in the first entry on the timeline: 1975 "The original LEGO figures were DUPLO Figures". Really? The first Duplo figures appeared some years later, in 1977, and of course the armless and faceless minifigs came in regular LEGOLAND sets. Oh well, good effort LEGO: I guess none of those writing or proof reading the magazine had been around in 1975 :-) (Thanks to Nick W who spotted the error).
More articles like that in the Club magazine please, LEGO, but accurate next time :-)
Commenting has ended on this article.