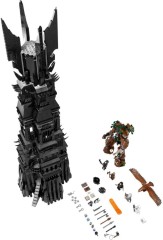 If you're signed in as a VIP member at shop.LEGO.com you'll now be able to order 10237 Tower of Orthanc for immediate delivery via these links: USA ($199) | UK (£169) | Canada ($249). If you're not signed in, you'll be taken to the shop home page.
If you order soon, you'll also get a Splinter key chain, a Jor-El polybag, a LEGO LotR poster, and free shipping, so what are you waiting for!
Commenting has ended on this article.