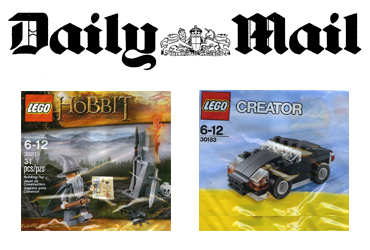 Rich over at BrickFanatics has received information from his reliable source about the next newspaper promotion in the UK.
Not the Mirror, or the Sun, but the Daily Mail this time, and it'll run for two days only, Saturday 29th June and Sunday 30th. The two sets are said to be 30213 Gandalf the Grey on Saturday and 30183 Little Car on Sunday.
Gandalf the Grey is certainly worth picking up, but it's not really an 'army builder' is it, so you probably won't need 'hundreds' of them. I wasn't too impressed with Little Car, as you may recall from my review a while ago.
Still, it's free LEGO, and better than nothing! (Thanks to Rich for the news and the image).
Commenting has ended on this article.