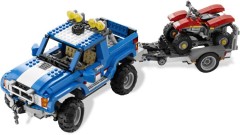 Following on from news last week that the mid-2010 sets are appearing in UK Brand Stores, we can now add the three large Creator sets to those now availble from Brand Stores in the UK.
All three, Ferocious Creatures, Sonic Boom and Offroad Power, look like great sets.
The new Duplo sets are also starting to make an appearance, with the Toy Story & Cars sets amongst the sets already released.
Commenting has ended on this article.