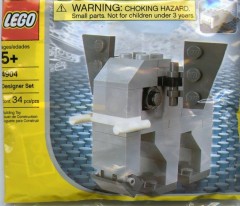 Here's a great chance to get this cute elephant polybag from 2005:
Chowren Toys' June promotion for Brickset readers is 4904 Elephant from 2005 for $2.75. Enter promo code BRKSET4904 at the checkout to get this price. The offer is limited to 50 per customer while supplies last. The more you buy the cheaper the shipping per item will be and any over-charge caused by errors in the shipping calculator will be refunded.
The promotion will run to 11:59 pm (US West Coast time) Sunday June 30, 2013. Just like previous promotions, you'll need to have already registered an account in our store in order to use this code. Click here to place your order.
Commenting has ended on this article.