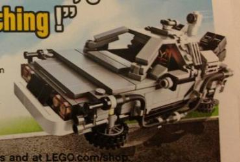 BrickFanatics has scooped an exclusive today with this picture of the BTTF DeLorean, from the July store calendar. The set will be available in mid-July, apparently. There's no sign of any minifigures, and it's a little hard to form an opinion on the car from the picture, but from what I can tell, it looks pretty cool but quite different from the model submitted to Cuusoo. What's your opinion?
Update: UK retailer ModelZone is quoting a price of £34.99, and I believe the price in the US will be $34.99.
Commenting has ended on this article.