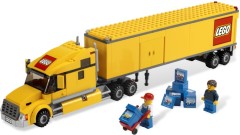 There have been some signficant additions to both the shop and the main site today:
The Kingdoms micro-site is live and there are some nice downloads and activities to keep you occupied
The shop has been updated. In the UK, the Kingdoms and train sets have been added. The products launched in 2010 page (which for some reason includes loads of 2009 sets) shows them all. They'll show up in our product feed in a day or so.
Collectable minifigs are now available from LEGOshop.com in the USA and Canada! However there is a limit of 5 per customer! I hope and pray you can get hold of all that you want: it seems they are going to be in short supply in north America. We've heard reports that many independent toy stores are being limited to one or two boxes of 60, so grab them while you can.
Collectable minifigs have SOLD OUT in the rest of the world at LEGOshop.com and we've also heard it's a similar situation at the brand stores, with staff not knowing if or when they'll get more.
Update: Around 120 instructions were added to the customer services site, too. Thanks to Vidiator for sending me a list! As always, the 'latest instructions' page lists the newest additions to enable you to find them easily.
Commenting has ended on this article.