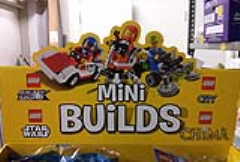 Here's some interesting news for UK readers, courtesy of Rich at BrickFanatics: WHS has started selling polybags! Apparently they are packaged in cartons labelled 'Mini Builds' and will probably be found near the tills.
They are priced at £2.99 and the sets available are said to be:
30230: Mini Mech, 30231: Space Insectoid, 30221: Fire Car, 30150: Racing Car, 30224: Ride on Lawn Mower, 30225: Coast Guard Seaplane, 30242: Republic Frigate, 30254: Razcal's Double-Crosser.
I guess these are in store to capitalise on the Daily Mail promotion at the weekend.
Update: I've just been to my branch. After talking to the staff there, I *think* they have some in the stock room but they said they weren't putting them out until the weekend. There was some confusion about what exactly they had, whether it was these or the freebies for the Mail promotion, but I'm hopeful that they will have both.
Commenting has ended on this article.