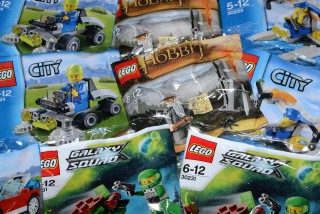 I'm sure you haven't forgotten, but just in case, don't forget to get down to WH Smiths today to collect your free 30213 Gandalf the Grey polybag which is free with the Daily Mail.
While you are there, look out for the 'Mini builds' box of polybags and feast on them while you can, because it's rare for polybags to be sold in the UK like this.
My small branch in Whiteley didn't have them after all, but I bought two Mails and received a '£5 off when you spend £15 on toys' voucher. I then headed down to Fareham and found them on the counter upstairs. It was a 'virgin' box, and it seems there are four of each of the polybags in it, and the store only had the one box. So I bought the ones I needed, and used the voucher. £2.99 each is a reasonable price, but using the voucher brought them down to £2.15 each. Even better!
I left plenty for the next person and I hope you all will do the same...
Commenting has ended on this article.