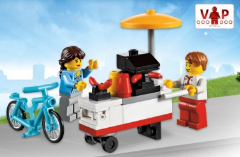 It seems that LEGO has worked out how to get us to buy stuff at full price from shop.LEGO.com by offering us an exclusive polybag that can't be obtained any other way. This month, it's 40078 Hot Dog Stand that's being offered free with purchases over £50 / $75 to VIP members.
And it looks like free shipping will be available on orders above that threshold for the foreseeable future.
Here are links to the shop: UK | USA | Canada.
Commenting has ended on this article.